/
/
/
Tech Guide 2023: What Is USB-C to Lightning Cable?
Surely you've heard of various types of cables, but have you examined what is USB-C to lightning cable? This remarkable utility, bridging the gap between devices, leverages USB-C's potential for fast charging and data transfer, melded with Apple's Lightning connector, a proprietary computer bus connector exclusive to Apple devices. This discussion will dig into understanding this cable, exploring its benefits, and enunciating versatile applications. We'll also guide you to discover the finest USB-C to Lightning cable available today!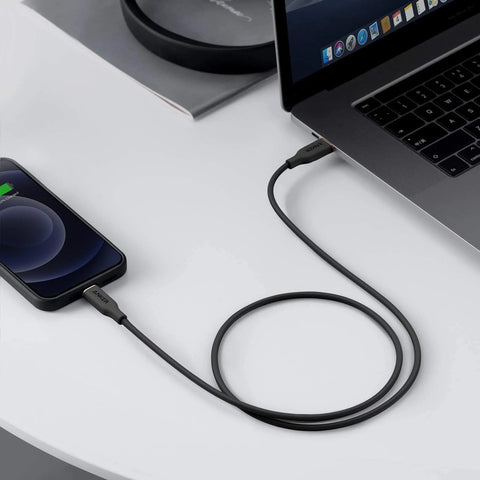 What Is a USB-C to Lightning Cable?
A USB-C to Lightning cable/cord is a type of connector that enables you to connect Apple devices that have a Lightning port (easily) to other devices or power sources with a USB-C interface.
USB-C, or USB Type-C, is a type of USB (Universal Serial Bus) connector that is characterized by its reversible plug orientation and high data transfer rates. Unlike its predecessors, USB-A and USB-B, USB-C connectors are symmetrical and can be plugged in either way.
Lightning, on the other hand, is a proprietary connector developed by Apple Inc. It is used to connect Apple devices like iPhones, iPads, iPods, and some types of AirPods to host computers, external monitors, cameras, USB battery chargers, as well as other peripherals.
By integrating these two interfaces, a USB-C to Lightning cable provides a versatile and efficient means for charging Apple devices and transmitting data between devices.
Benefits and Advantages of a USB-C to Lightning Cable
Fast Charging
One of the most significant advantages of using a USB-C to Lightning cable is the ability to utilize USB-C's power delivery feature to charge your devices rapidly. This enables faster charging, especially for newer iPhone models which support fast charging.
Universal Compatibility
The USB-C to Lightning cable consolidates the two interfaces into a universally compatible connector. As USB-C becomes the standard across many devices, you can use the same cable to charge multiple devices.
Bidirectional Power Delivery
USB-C can supply power in both directions. You are able to use the same cable to charge your Apple device and also charge a connected device if it supports power delivery.
High Data Transfer Speeds
A USB-C to Lightning cable supports high-speed data transfer, making it convenient to move or back up large files between devices.
Applications and Usage Scenarios of a USB-C to Lightning Cable
Charging and Syncing Apple Devices
You can efficiently use a USB-C to Lightning cable/cord to charge your Apple devices that use a lightning connector and sync them with your Mac or PC.
Connecting Apple Devices to Newer Macs or PCs
Many newer computers, including versions of MacBooks and PCs, have adopted USB-C interfaces. With this cable, you can definitely connect your iPhone or iPad directly to them.
Fast Charging iPhone or iPad
When used with a USB-C power adapter, these cables can provide fast charging to iPhone or iPad models that support this feature.
Audio and Video Transfer
You can use these cables for direct audio and video transfers between your Apple devices and your computer or display screens with a USB-C port.
Power Bank Charging or On-the-Go Power
If you're on the move and your iPhone battery is running low, you can use your power bank with a USB-C output to charge your phone utilizing a USB-C to Lightning cable.
How to Find the Best USB-C to Lightning Cable?
Finding the best USB-C to Lightning cable requires careful consideration of several factors including durability, length, and certification. Here is a step-by-step guide on how you can find the best USB-C to Lightning cable:
Step 1: Check for MFi Certification
Apple's MFi (Made For iPod/iPhone/iPad) Certification is a licensing program that ensures all your third-party devices are compatible with Apple's devices. Apple-approved MFi Certified accessories adhere to strict performance and manufacturing standards.
Step 2: Consider the Material
The durability of a cable is largely determined by its material. Nylon cables are typically stronger and more durable than their plastic counterparts. They are resistant to kinks and breaks, making them last longer.
Step 3: Length
The length of the cable depends on where and how you plan to use it. Longer cables (like 6ft) offer more flexibility and convenience, while shorter cables (like 3ft) are more portable.
Step 4: Cable Thickness
Thicker cables often suggest the use of better quality material and are more resilient towards wear and tear. However, they could be less flexible as compared to thinner cables.
Step 5: Brand Reputation
A brand's reputation could be a deciding factor. Respected and well-known brands often adhere to safety standards and offer quality products.
Step 6: Reviews and Ratings
Look at user reviews and ratings. These can give a fair idea about the product's performance and durability.
Speaking of quality and reliable brands, Anker produces excellent USB-C Chargers and USB-C to Lightning cables that are known for their durability and performance:
Meet the Anker 762 USB-C to Lightning Cable (3ft / 6ft Nylon), a robust accessory crafted with a sleek, ultra-slim design with a 35,000-bend lifespan. This durable cable, available in lengths of 3ft or 6ft, ensures rapid charging with an 18W USB-C charger and high-speed data transfer at 480 Mbps. It's MFi certified, guaranteeing secure, optimum-speed charging for your Lightning devices. Just please note that the charger is not included in the package.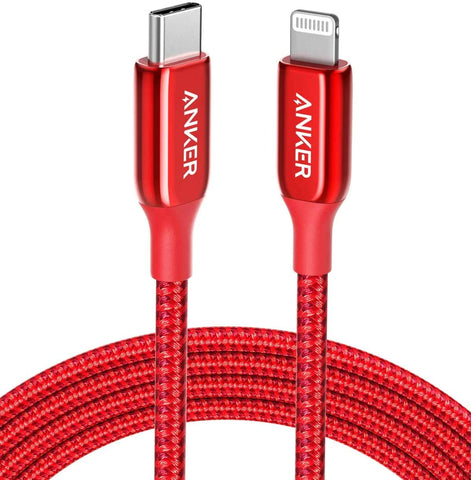 The Anker 641 USB-C to Lightning Cable (Flow, Silicone) is another high-quality cable from Anker that offers an extraordinarily soft and tactile experience with its silicone finish. Despite its gentleness, it exhibits unmatched durability with a 25,000-bend life expectancy. The cable stays tangle-free in any situation, making it effortlessly portable. It's MFi certified, ensuring optimal and safe charging for all Lightning devices, including iPhone 13/12 and iPad when paired with a Power Delivery high-speed charger.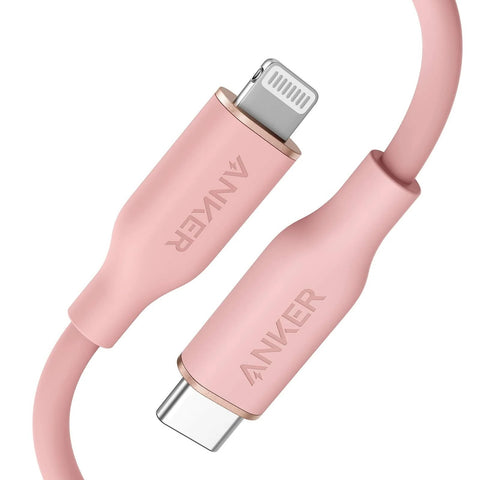 Anker cables are well-reviewed and rated by users, and they make an excellent choice for anyone seeking a high-quality, durable USB-C to Lightning cable.
Conclusion
So, now that you are well-versed with 'what is USB-C to lightning cable', its manifold benefits, intriguing applications, and how to spot the best one for your needs, it's time to integrate this robust technology into your tech gadget ecosystem. Now, you can start to utilize the power of this compact yet powerful accessory and unlock fresh possibilities that will enhance your tech efficiency like never before. Make your choice today and upgrade your tech lifestyle with speed and convenience.
FAQ about USB-C to Lightning Cable
Here are some commonly asked queries on what is USB-C to lightning cable.
Does my iPhone charge faster with USB-C to Lightning cable?
Yes, your iPhone will charge faster with a USB-C to Lightning cable if you're using it with a power adapter that supports higher output, such as an 18W, 20W, or higher USB-C power adapter. This is because the USB-C provides more power output than traditional USB-A chargers, thus enabling fast charging capabilities.
Can I charge any Apple device with a USB-C to Lightning cable?
You can charge any Apple device that has a Lightning port with a USB-C to Lightning cable. This includes iPhone models from iPhone 5 through the current models, most iPads, and some models of the Apple Magic Keyboard and Magic Mouse. However, for devices that have a USB-C port, such as recent iPad Pro models, you would need a USB-C to USB-C cable.
Is it OK to buy MFI-Certified USB-C to Lightning cable?
Yes, it is not only OK but also advisable to buy MFI-certified USB-C to Lightning cables. MFI ('Made for iPhone, iPad, iPod') certification is an approval program by Apple that ensures the accessory is safe and compatible with Apple devices. Non-certified cables could potentially harm your device or degrade its performance due to substandard quality or design.