/
/
/
Step-by-Step Guide: How to Use USB-C to HDMI Android
In this era dominated by technology, it's crucial to know how to adapt and make the most out of gadgets and accessories. For instance, having an available USB-C to HDMI adapter broadens the abilities of your Android phone dramatically by allowing interfacing with HD displays. This article will guide you to master learning how to use USB-C to HDMI Android and simplify the task of choosing the perfect one for you, paving a path to a seamless, high-definition experience.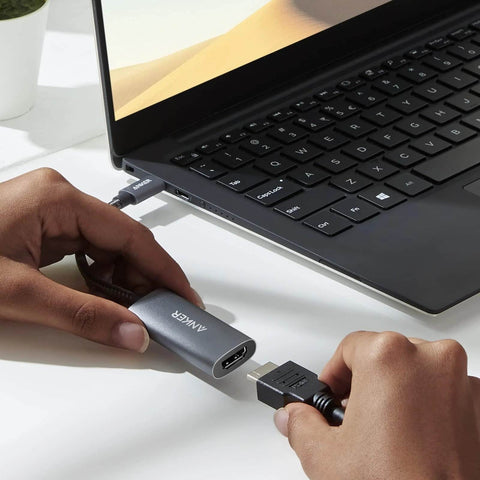 What Can You Do with a USB-C to HDMI Adapter for Your Android Phone?
A USB-C to HDMI adapter enables connecting an Android phone to an HDMI display, such as a TV, monitor, or projector. With this connection, you can expand your phone's functionalities and create a more immersive and convenient experience, be it for entertainment or work purposes.
Here are some of the main uses of a USB-C to HDMI adapter for an Android device:
Mirror your phone's screen:Display your phone's screen on a larger display, enabling you to share videos, photos, and presentations with others. It's especially useful for showing off your vacation photos or sharing YouTube videos with friends.
Expand your workspace: Connect your phone to an external monitor and use it as a secondary display for productivity apps like word processors, spreadsheets, and even design software.
Turn your phone into a media center:Watch your favorite streaming services like Netflix, Disney+, Hulu, or Amazon Prime Video on a bigger screen for a more immersive and comfortable viewing experience.
Gaming on the big screen:Play your favorite mobile games on a larger display, opening up new possibilities and making it far more enjoyable for both you and your friends to follow the action.
Live presentations:Deliver presentations directly from your Android phone, making it easy to showcase your work or give speeches with the help of a large screen for better clarity and audience engagement.
Steps to Use USB-C to HDMI Adapters on Android
Here is a step-by-step guide on how to use USB-C to HDMI adapters on an Android device:
Check the Compatibility of the Adapter
Before purchasing or using a USB-C to HDMI adapter, ensure that your Android phone supports video output through the USB Type-C port. Check the phone's specifications and look for terms like DisplayPort Alternate Mode (DP Alt Mode) or MHL support. If in doubt, consult your phone's manufacturer. Additionally, check the adapter's specifications and product descriptions to ensure it's compatible with Android devices.
Connect the Adapter with HDMI Cable and USB-C Port
Plug the USB-C end of the adapter into your Android device's USB-C port.
Connect an HDMI cable to the HDMI end of the adapter.
Connect the other end of the HDMI cable to an HDMI-enabled display, such as a TV, monitor, or projector.
Configure Your Android Device
Once your Android device is connected to the HDMI-enabled display, it should automatically detect the external display and start mirroring your screen. If it doesn't happen automatically, follow these steps:
Swipe down from the upper part/top of your Android device's screen to open the notification shade.
Look for a notification related to external display or HDMI connection and tap on it.
Select the appropriate option to enable screen mirroring or extended display mode.
If you don't see any related notification, you can try accessing these settings manually:
Open your device's settings app.
Navigate to Display settings or search for "Display" in the settings' search bar.
Look for options related to HDMI output, screen casting, or external display.
Enable the desired output mode to begin screen mirroring or extended display mode.
Adjust Display Settings (Optional)
Once your Android device is successfully connected to an HDMI-enabled display, you may need to adjust the output resolution or aspect ratio to achieve the best viewing experience. Here's how you can manage these settings:
Access your Android device's display settings, as mentioned in the third step.
Locate settings related to external display, HDMI output, or screen resolution.
Adjust the settings as needed to ensure the best possible output quality on the external display.
How to Choose the Right USB-C to HDMI Adapter?
Choosing the right USB-C to HDMI adapter involves considering several factors:
Compatibility:Always make sure that the adapter is compatible with your devices. Consider the types of USB-C and HDMI ports that you're connecting and check if the adapter caters to those needs.
Resolution Support:Assess the maximum resolution that the adapter can support. If you plan to project to a 4K display, choose an adapter that supports 4K resolution.
Additional Ports:Some adapters come with extra ports such as USB, SD card, or power delivery slots. If you require these additions, choose a multi-port adapter.
Price:While the cheapest options might be tempting, they might not offer optimal performance or durability. Balance quality and cost-effectiveness.
Power Delivery:If you're using a device that charges via USB-C, consider an adapter with Power Delivery (PD) so that you can safely charge your device and transmit data simultaneously.
Quality:Look for brands with good customer reviews and warranties. Build quality directly impacts durability and performance.
One brand that consistently meets these criteria is Anker. Dedicated to producing high-quality tech accessories, we have a range of USB-C adapters that have garnered a solid reputation. Two particularly notable options include:
Anker 310 USB-C Adapter (4K HDMI)
Utilize the advanced technology of the Anker 310 USB-C Adapter (4K HDMI), trusted by over 65 million users worldwide. This robust and lightweight aluminum adapter offers vivid 4K video streaming via any TV or display with an HDMI port, thanks to its USB-C to HDMI connectivity. Simply plug and play without installation, while its reinforced, braided-nylon casing ensures durable daily use.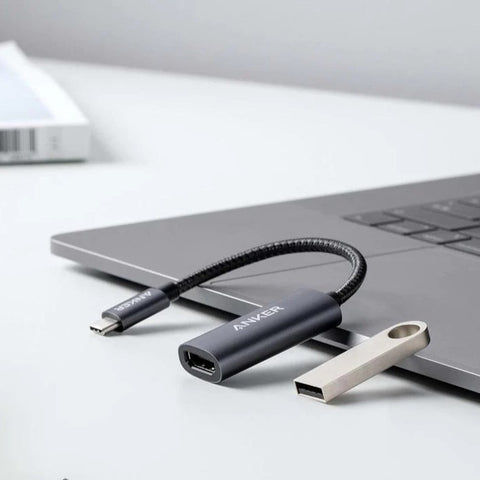 Anker 518 USB-C Adapter (8K HDMI)
The Anker 518 USB-C Adapter (8K HDMI) delivers crystal-clear 8K@60Hz or 4K@144Hz video, enabling trouble-free screen mirroring or extension. With plug-and-play simplicity, it transforms your laptop's USB-C into an HDMI port, no setup required. It's HDCP-compliant, ensuring smooth playback of encrypted content, and universally compatible, fitting almost any USB-C device and connecting to various TVs, monitors, and projectors.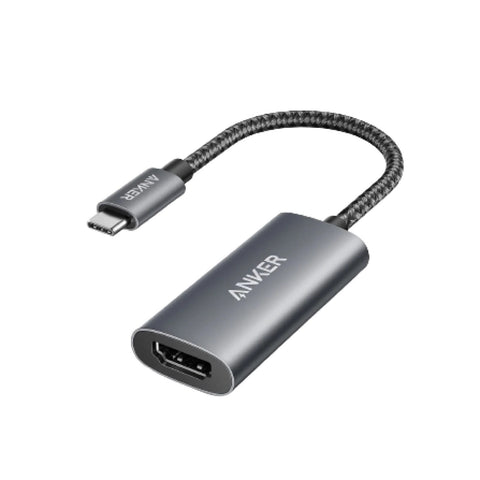 Conclusion
Mastering the art of connectivity between your Android gadget and larger displays can radically change your digital experience. For those eager to project their favorite films, apps, or even business presentations, knowing how to use USB-C to HDMI Android is a game-changer. It's not just about choosing the right adapter; it's about unlocking unimagined possibilities, all while utilizing the power of an accessory that's as handy as it is transformative.
FAQ
Here are some commonly asked questions on how to use USB-C to HDMI Android.
Do I need to install any special software or apps to use USB-C to HDMI with my Android device?
No, you typically do not need any special software or apps to use a USB-C to HDMI adapter with your Android device. It is an interface standard, and it should work if your Android device supports video output over USB-C (DisplayPort Alt Mode). However, it is still recommended to check your device compatibility before using it.
Can I charge my Android device while using USB-C to HDMI?
Yes, you can. Some USB-C to HDMI adapters that support USB Power Delivery allow for concurrent device charging and display output. However, specific capabilities depend on the adapter and device.
Can I use USB-C to HDMI to watch Netflix or other streaming services on my TV?
Yes, you can use USB-C to HDMI to watch Netflix and/or other streaming services on your TV. Once connected, it allows you to mirror or extend your Android device's display to your TV. Therefore, any content that you can access on your device like Netflix, YouTube or other streaming services, can be viewed on the bigger TV screen. Ensure your adapter and TV support High Definition or 4K resolution to fully enjoy these services.