/
/
/
Ranking 2023's Best Docking Station for MacBook Pro
When it comes to amplifying your Apple laptop capabilities, nothing is better than having the best docking station for MacBook Pro. A docking station simplifies your professional workspace and effortlessly bridges the gap between portability and usability. This article aims to highlight the enviable benefits of docking stations for your MacBook Pro, review five incredible options vouched for their performance, and guide you to pinpoint the station that exhibits the perfect combination of your needs and preferences. So what are we waiting for? Let's get started!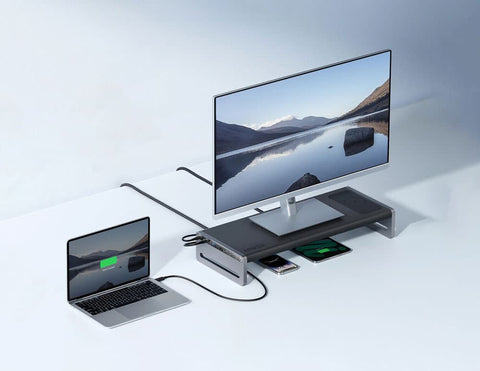 Benefits of having a docking station for your MacBook Pro
A MacBook Pro docking station provides a range of benefits designed to enhance your device's functionality and convenience. Here are a few key benefits:
Variety of Ports:A docking station expands the variety of ports available for use. It equips your MacBook Pro with multiple types of connections such as Thunderbolt ports, USB ports, HDMI, VGA, or DVI, thus significantly boosting your device's versatility.
Connect Multiple Devices:With a docking station, you can connect your MacBook Pro to various devices simultaneously like external monitors, mice, external hard drives, smartphones, and headphones. This feature particularly augments your MacBook's working capability, allowing for a more robust and efficient workstation.
Improved Display Capabilities:The docking station can give your MacBook Pro the ability to support more than one external display in Extended mode. This feature is indeed very useful for users who must multitask across different screens.
Reduced Need for Adapters:If you prefer a decluttered work environment, a docking station can provide a neat solution, eliminating the need for a multitude of different adapters or dongles.
5 Best Docking Stations Recommended
If you're looking for top-notch docking stations, we've got you covered. These selections offer a range of features to enhance your connectivity and productivity. Let's dive into the details:
Anker 777 Thunderbolt Docking Station (Apex, 12-in-1, Thunderbolt 4)
Want a compatible docking station for your latest version of MacBook Pro? Anker 777 Thunderbolt Docking Station (Apex, 12-in-1, Thunderbolt 4) is the best choice. Built for Thunderbolt 4-integrated Windows 10 and MacBooks other than those with M1 processors, it boasts a myriad of ports including Thunderbolt 4, USB-C Power Delivery, HDMI, Ethernet, SD, AUX, and USB-A.
It has notable features like optimal charging abilities and ultra-fast data transfer speeds. In addition, it offers impressive display capabilities, allowing resolutions of 8K@30Hz and 4K@60Hz. As a result, the Anker 777 Thunderbolt Docking Station enables you to seamlessly connect and manage three screens simultaneously for crisp, high-definition streaming or mirroring.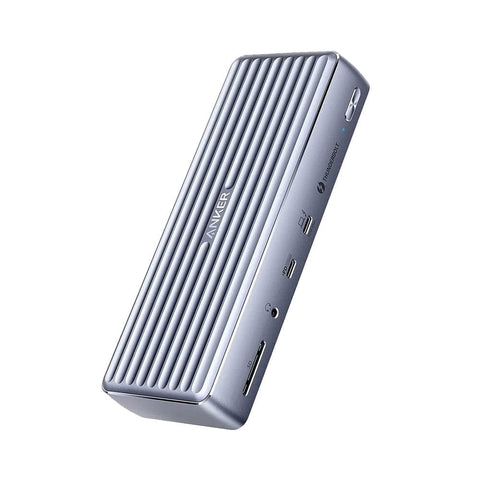 Anker 778 Thunderbolt Docking Station (12-in-1, Thunderbolt 4)
If you want to seek a docking station for fast file transfer, Anker 778 Thunderbolt Docking Station (12-in-1, Thunderbolt 4) can be your perfect choice. Utilizing a remarkable 40 Gbps upstream bandwidth, you have the capacity to showcase media on a solitary monitor in remarkable 8K resolution and conduct lightning-fast file transfers at speeds of up to 40 Gbps simultaneously.
What's more, it enables you to enjoy versatile charging with 100W laptop power via the Thunderbolt 4 upstream port, and 30W device power through two USB-C ports. It helps establish a connection to a solitary display with the capability to reach up to 8K@30Hz resolution, or alternatively, link up to a network of four displays each boasting a 4K resolution. Note: M1/M2 MacBooks and AMD CPU Asus laptops are incompatible.
Anker 675 USB-C Docking Station (12-in-1, Monitor Stand, Wireless)
The Anker 675 USB-C Docking Station (12-in-1, Monitor Stand, Wireless) works as an essential companion for your MacBook. It is compatible with MacBook devices running macOS 10.14 and above. Equipped with a 100W max USB-C port, a 4K HDMI port, 3 USB-A and 2 USB-C ports, SD/microSD slots, an Ethernet port, and a wireless charging pad, the versatile docking station ensures an organized and fully powered workspace. This all-in-one device doubles as a monitor stand, promoting a healthier posture by elevating your monitor and providing convenient storage space for peripherals underneath. As an integral asset to any workspace, this docking station keeps you charged and connected.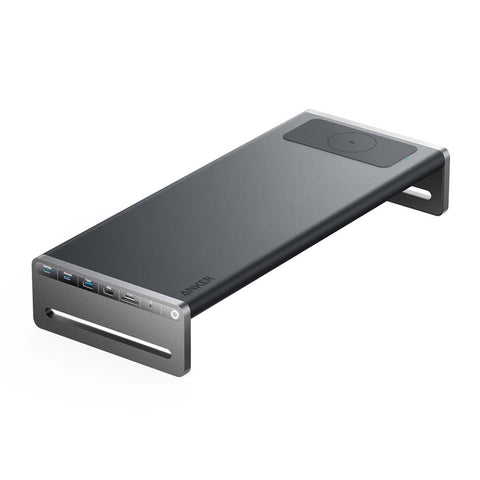 Anker 575 USB-C Docking Station (13-in-1)
The Anker 575 USB-C Docking Station (13-in-1) provides a vast expansion for your laptop. It seamlessly integrates with various operating systems, offering compatibility with Windows 8, 10, 11, and macOS 10.12 or later. With an 85W laptop-charging USB-C port, as well as an 18W Power Delivery USB-C port, this docking station ensures efficient and convenient charging for your devices.
Additionally, its array of ports, including HDMI, DisplayPort, USB-A, and Ethernet, simplifies data transfer, charging, and media streaming processes. Simultaneously, this docking station supports up to three 1080p@60Hz displays, providing a seamless multi-display experience.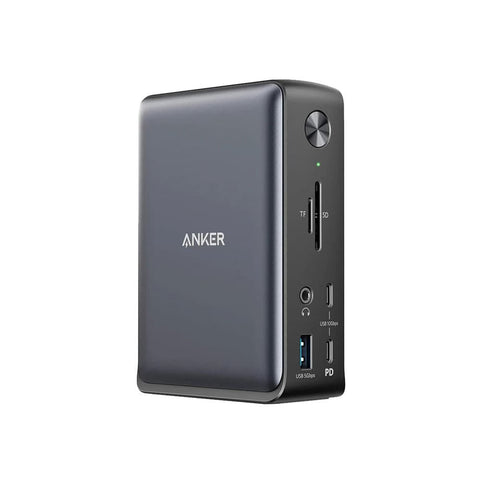 PowerExpand 5-in-1 Thunderbolt 4 Mini Dock
If you're seeking an affordable docking station option for your MacBook, you can take PowerExpand 5-in-1 Thunderbolt 4 Mini Dock into consideration. This docking station works seamlessly with both Windows 10 laptops and MacBooks alike, as long as they feature Thunderbolt 4 ports. This potent device ensures seamless expansion featuring an 85W Thunderbolt 4 upstream port, three Thunderbolt 4 downstream ports, and a USB-A port. So you are able to experience rapid charging up to 85W and high-speed data transfers up to 40 Gbps. Moreover, with multi-screen display capabilities, it can highly support 8K@30Hz on a single monitor or 4K@60Hz on dual monitors.

How to Choose a Docking Station for Your Macbook Pro?
When selecting the best dock for MacBook Pro, several factors must be considered to ensure compatibility, functionality, and efficiency. Follow this helpful guide to make an informed decision:
Determine Your MacBook Pro Model and Ports
First, identify your MacBook Pro model and the available ports. Older models (pre-2016) contain ports like USB-A, HDMI, and SD Card slots. Newer models (2016 onwards) mostly have USB-C/Thunderbolt 3 ports.
To find your MacBook Pro model:
Click on the Apple icon that can be found in the top-left corner of your screen
Choose "About This Mac"
Check your model information
Assess Your Needs and Usage
Think about the tasks you plan to accomplish with your MacBook Pro and the devices you need to connect. Common devices include:
External displays
USB-A peripherals (e.g., keyboards, mice, external drives)
SD Card readers
Ethernet (for wired internet connections)

Audio devices
Choose the Right Type of Docking Station
Based on your requirements from Step 2, look for a docking station that offers the necessary ports. Types of docking stations include:
USB-C/Thunderbolt 3 docks (for newer MacBook Pro models)

Single-port docks: Connect using one USB-C/Thunderbolt 3 port; ideal for basic needs

Dual-port docks: Connect using two USB-C/Thunderbolt 3 ports; provides more power and connection options, including multiple-display support
USB-A docks (for older MacBook Pro models)
Standard docks: Connect via USB-A; provide several ports and connections (less powerful than USB-C/Thunderbolt 3 docks)
Review the Specifications
When selecting a docking station, look for these specifications:
Pass-through charging:Allows your MacBook Pro to charge while connected to the docking station
Display resolution and support:Supports the resolutions you require (e.g., 4K, 5K, or 8K) and the number of external displays
Data transfer rates: Determines the speed of data transfers; ideally, select a docking station with high-speed transfer rates
Consider Build Quality and Design
Look for a docking station that complements your MacBook Pro's design and provides durability. High-quality materials (e.g., aluminum) and well-designed products blend seamlessly with your workspace.
Read User Reviews and Ask for Recommendations
Before purchasing a docking station, read user reviews and ask for recommendations from friends and/or online communities. Reviews provide insights into product reliability, customer service, and other relevant factors.
 Conclusion
In conclusion, elevate your experience to new heights with the best docking station for MacBook Pro that complements your productivity and creativity. Among the array of options available, the 5 best docking stations recommended above stand out for their exceptional features and compatibility. Each docking station offers a unique set of benefits, catering to various needs and preferences. From Thunderbolt 4 expansion to versatile charging capabilities, these recommendations provide you with the tools to optimize your MacBook Pro experience.
FAQ
Here are some commonly asked queries about the best docking station for MacBook Pro.
Do Docking Stations Work on Macbook Pro?
Yes, docking stations are entirely compatible with MacBook Pro. They are designed to enhance productivity by offering added functionalities like more ports, better power management, and the convenience of a single cable for multiple connections.
Is It Bad to Leave Macbook Plugged in to Dock?
No, it is not inherently detrimental to leave your MacBook Pro plugged into a docking station. Modern smart charging technology manages power consumption effectively to prevent overcharging. However, for optimal battery health over long periods, it is advisable to occasionally use the MacBook off the dock, running on battery power.
Is It Safe to Use a Third-Party Docking Station on Your Macbook Pro?
It's generally safe to use a third-party docking station with your MacBook Pro so long as it is from a reliable and recognized brand (just like Anker). Such products need to comply with standard safety regulations and also usually carry certifications from institutions like UL or FCC.