Due to COVID-19 shipping times may vary.
eufy
RoboVac 15C
Wi-Fi, Upgraded, Super-Thin, 1300Pa Strong Suction, Quiet, Self-Charging Robotic Vacuum Cleaner, Cleans Hard Floors to Medium-Pile Carpets
All-New RoboVac: Wi-Fi-equipped and re-engineered to be the slimmest* RoboVac (2.85") but with increased suction to 1300Pa.
BoostIQ Technology: Automatically increases suction power within 1.5 seconds when extra vacuuming strength is needed to get the best clean.
High-capacity Li-Ion battery: delivers up to 100 minutes** of constant, powerful suction.
Premium Features: Anti-scratch tempered glass-top cover for protection, infrared-sensor for evading obstacles, and drop-sensing tech to avoid falls. Automatically recharges so it's always ready to clean.
Just Follow the Sound
If RoboVac gets stuck or is playing hide-and-seek, just tap the Find My Robot button in the EufyHome app to find it without effort.
Non-Stop Cleaning
Large wheels roll over carpets and climb over door ledges to get to the mess.
Worry-Free Cleaning
RoboVac uses drop-sensing technology to avoid falling down stairs and off of ledges.
Always Prepared to Clean
RoboVac automatically returns to the charging base when power is low, ensuring it's always charged and ready to vacuum.
Triple-Filter System
RoboVac combines a dual-layer filter and one high-performance filter to acheive a clean home.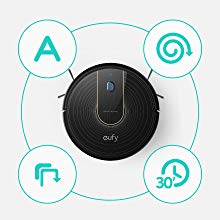 Automatic Cleaning
Multiple cleaning modes and a pre-set vacuuming time ensure an effortless, thorough clean while you do other things or nothing at all.
Endurance Cleaning
RoboVac cleans up to 100 mins* per charge, so you get to enjoy a completely clean home from a single charge.
Large Dustbox
A large 0.6L dustbox holds more dirt per clean to reduce the frequency of emptying.
FAQ
What voltage is RoboVac rated for? Does RoboVac come with a charger that is compatible with my region?

RoboVac works with voltages from 100 - 240V; a charger for the region is included. If you want to use your RoboVac in other countries, you will need to use a plug adapter.
Which Wi-Fi networks does RoboVac support?

Supported Wi-Fi networks:
- IEEE 802.11b (Not recommended)
- IEEE 802.11g
- IEEE 802.11n (Support only for 2.4GHz)

RoboVac does not support 5GHz networks.
What should I do if I can't find my Wi-Fi network?

- Make sure you are within range of your Wi-Fi router.
- Make sure your Wi-Fi router is switched on.
- Make sure your smartphone is connected to your Wi-Fi router.
- If the SSID of your network is hidden, manually search for the hidden network you want to connect RoboVac to.

If these suggestions don't help, please contact us at support@eufylife.com for more assistance.
What should I do if I can't connect RoboVac to my Wi-Fi network?

1. Make sure the Wi-Fi network name or the password you entered is correct. If it is incorrect, please try again.
2. Check whether there are any Internet connection problems. If the Wi-Fi signal is too weak, reset your Wi-Fi router and try again.
3. If there are too many devices connected to your wireless router at once, disconnect a few devices and try again.
4. Check to see if the side switch on RoboVac is turned on (in the "I" position) and make sure your RoboVac operates normally.
5. If the issue persists, long-press the Auto cleaning on/off button for 10 seconds to reset RoboVac. After you hear one beep and see the Wi-Fi status light start to flash, follow the instructions in the EufyHome app to set up the Wi-Fi connection.

If these suggestions don't help, please contact us at support@eufylife.com for more assistance.
Specs
Works with the Google Assistant
Fall Prevention (Drop Sensor)
Auto-Dock and Recharge Feature
Auto Boost
BoostIQ™ Technology 2nd Gen
Filter
Triple-layer with High-Performance Filter
Multi-Surface Cleaning
Hard Floors to Medium-Pile Carpets
Cleaning Modes
Auto, Spot, Edge, Quick cleaning
Included Accessories
Remote control, Cleaning tool, Replacement side brush set, Replacement fitler set, Cable Ties
Copyright © 2021 Anker Technology (UK) Ltd
