/
/
/
What Is Black Friday and How Does It Impact Shopping Trends
What is Black Friday? Occurring right after Thanksgiving, Black Friday marks the start of the Christmas shopping frenzy. With countless incredible deals and discounts available, it's no wonder people flock to stores in droves. In this blog, we will delve into the essence of this extraordinary shopping holiday, offering practical tips to help you snag the best bargains. Join us as we explore the global phenomenon that makes this chaotic day so wildly popular!
What Can You Do on Black Friday?
On Black Friday, shoppers can engage in various activities to make the most of the discounts and sales available:
Plan your holiday shopping:Black Friday marks the beginning of the holiday shopping season. It's a great time to start planning and purchasing gifts for your loved ones. Make a list of the items you need to buy and take advantage of the discounts available.
Set a budget:It's easy to get carried away with all the enticing deals on Black Friday. Before you start shopping, set a budget to avoid overspending. Stick to your budget and prioritize the items you really need.
Shop for Deals: Black Friday is known for substantial discounts and deals on a wide array of products. Shoppers can search for discounts on electronics, home appliances, fashion items, and more.
Pay a Visit to Stores:Numerous retailers provide exclusive in-store offers on Black Friday. Take the opportunity to explore your preferred stores in search of the finest deals. Just be ready for bustling stores and lengthy queues.
Online Shopping: Like local stores, many retailers online offer great deals, allowing shoppers to snag discounts from the comfort of their homes. Cyber Monday, following Black Friday, often extends the online shopping spree.
Compare Prices: Utilize comparison tools and websites to scout for the best deals. Compare prices, features, and reviews to ensure you're getting the best value for your money.
Why Is It Called Black Friday?
You may have curiosity about Black Fridayand what is it. Here is the historical timeline of the origin of this holiday:
The term "Black Friday" first originated in 1869 and had no relationto Christmas shopping. Instead, it referred to a day when a dramatic decline in gold prices triggered a market crash, exerting a long-lasting impact on the U.S. economy.
Then, in the 1960s, it was widely used by the Philadelphia and Rochester police to describe the chaotic and crowded shopping day following Thanksgiving. The name came from the heavy pedestrian and vehicle traffic that caused disruption and congestion in the city.
In the early 1980s, the term "Black Friday" was believed to signify the point in the year when many retailers moved from operating at a loss, indicated by red ink on their balance sheets, to turning a profit, represented by black ink.
Itis now considered the beginning of the holiday shopping season and a day when retailers offer significant discounts, aiming to attract a massive influx of shoppers, hence making a substantial portion of their annual sales in a single day. This day is critical for businesses and has become synonymous with lucrative deals and discounts.
Tips for Safe and Successful Black Friday Shopping
Now, you have known about what is the meaning of Black Friday. Get ready for massive shopping on Black Friday. To ensure you get the best deal and shopping experience, here are some tips for a safe and successful Black Friday shopping:
Set a budget: Determine how much you can afford to spend and stick to it. It's easy to get carried away by the sales hype, but overspending can cause financial stress later on.
Create a list: Make a list of the items you want to buy. This will help you stay focused and avoid impulse purchases. Prioritize the most important items, so you can target them first. If quality electronic accessories are on your list this year, visit Anker Black Friday deals to get an offer of up to 50% off on USB-C chargers, power banks, cables, and more.
Compare prices: Before making a purchase, compare prices on different websites. Utilize price comparison tools or browser extensions to ensure you're getting the best available deal.
Subscribe to newsletters and alerts: Sign up for newsletters or follow retailers' social media accounts to stay updated on their Black Friday offers. Some retailers may provide exclusive discounts or early access to subscribers.
Clear your browser cache: Clearing your browser cache before shopping can ensure that you're viewing the most up-to-date prices and deals. It can also help prevent any potential technical glitches.
Shop from reputable websites: Stick to well-known and trusted online retailers to avoid scams and counterfeit products.  Look for secure payment methods and check customer reviews before making a purchase.
Check return policies: Before finalizing your purchase, review the retailer's return policy. Ensure that you have the option to return or exchange items if necessary.
Use secure payment methods: Protect your personal and financial information by using secure payment methods such as credit cards or trusted digital wallets. Avoid sharing sensitive information through unsecured platforms.
Read product reviews: Take the time to read reviews from other customers before making a purchase. This can provide insights into the quality and performance of the product you're interested in.
Beware of phishing attempts: Be cautious of phishing emails or suspicious links that claim to offer Black Friday deals. Only shop through official retailer websites and avoid clicking on unsolicited links.
Here are the top Anker products for Black Friday deals available:
19% off: Anker Prime 20,000mAh Power Bank (200W): $110.49 (original: $129.99)
Anker Prime 20,000mAh Power Bank (200W) provides high-powered charging. It has two USB-C ports and one USB-A port, collectively offering a robust 200W output, allowing you to efficiently charge two laptops simultaneously at a rapid 100W each. With the USB-C port's 100W fast recharge, this power bank fully replenishes in just 1 hour and 15 minutes.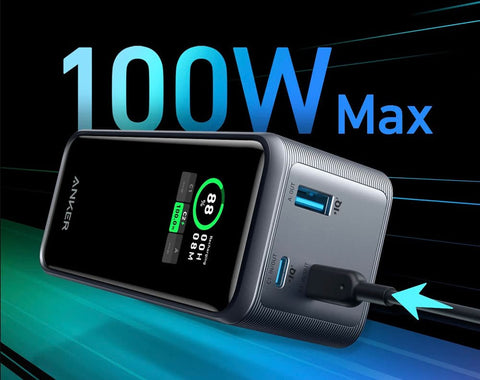 Designed in a compact size of 4.9 × 2.1 × 1.9 inches, this 20,000mAh power bank fits seamlessly in your bag, catering to your travel needs and ensuring reliable power while on the move. The smart digital display keeps you informed about the remaining battery capacity, power input, and output, providing complete control and visibility over the power bank's status.
Anker 3-in-1 Cube with MagSafe: $149.95
Anker 3-in-1 Cube with MagSafe offers a convenient wireless charging solution designed specifically for your iPhone, Apple Watch, and AirPods. You can charge these three devices at the same time. Anker 3-in-1 Cube delivers impressive 15W ultra-fast power for the iPhone 15/14/13/12 series through Apple MagSafe, ensuring rapid and efficient charging.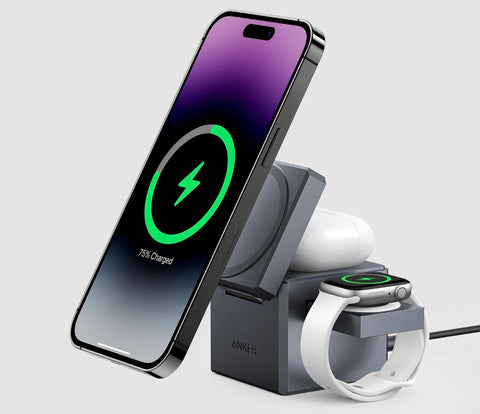 The compact, foldable design of the Anker 15W 3-in-1 MagSafe charger makes it pocket-sized and travel-friendly, offering on-the-go charging convenience. With an adjustable viewing angle of up to 60°, you can easily switch between landscape or portrait mode for a comfortable viewing experience while your phone stays steadily charged.
Conclusion
In conclusion, Black Friday offers a multitude of opportunities for shoppers to seize incredible deals, both in physical stores and through online shopping platforms. By understanding what is Black Friday, integrating safety measures, and adapting to the changing shopping landscape, consumers can navigate this event successfully. Black Friday, with its remarkable offers and diverse shopping experiences, continues to influence and shape consumer behavior, marking the commencement of the holiday shopping season. The day has evolved to embody a fusion of tradition, innovation, and unbeatable deals, resonating with shoppers seeking value and quality in their purchases.
FAQ
Does Black Friday Save Your Money?
Black Friday can indeed offer opportunities to save money due to the substantial discounts and deals provided by retailers. However, the extent of savings may vary based on individual purchases, and not all deals may genuinely offer significant savings. It's essential for consumers to research and compare prices to ensure the discounts on Black Friday align with their budget and actual value. While Black Friday can present attractive discounts, prudent shopping and price comparison are crucial to making sure you're truly saving money on your purchases.
How Long Do Black Friday Sales Last?
Black Friday sales typically occur on the day after Thanksgiving in the United States. However, the duration of these sales can vary. Some retailers extend the sales to the entire weekend, offering deals from Friday through Sunday. Additionally, with the growing popularity of online shopping, many retailers extend Black Friday deals further. Some sales might even start earlier in the week or be available for an entire week leading up to Black Friday. The duration of Black Friday sales can differ among retailers, so it's wise to check individual store promotions and their duration for accurate information.
What Are the Benefits of Black Friday?
Black Friday presents several benefits for shoppers, including:
Discounted Prices: Shoppers have access to substantial discounts on various items, making it an opportune time to buy products at significantly reduced prices.
Early Holiday Shopping:It allows consumers to get a head start on holiday shopping, enabling them to purchase gifts for friends and family at reduced rates.
Exclusive Deals: Many retailers offer exclusive deals and limited-time offers, allowing customers to access discounts that might not be available at other times of the year.
Variety of Choices: With numerous retailers participating, Black Friday provides a wide range of choices across different product categories, offering something for everyone.
Online Shopping Convenience: The increasing trend of online Black Friday deals offers convenience and the flexibility to shop from home, avoiding crowded stores.
Savings on Big-Ticket Items: It's an ideal time to snag discounts on higher-priced items like electronics, appliances, or furniture, resulting in substantial savings.