/
/
/
Understanding LiFePO4 Solar Generators
Solar generators are excellent backup power options for indoor appliances and outdoor trips. Their portable and lightweight design enables convenient charging of multiple electronic devices using solar energy. Their eco-conscious nature sets them apart, eliminating the need for consuming large quantities of fuel, unlike traditional generators.
Moreover, these solar generators have gained popularity for their exceptional performance, durability, and versatility. They provide a clean and silent power solution for various applications, including camping, outdoor adventures, emergency preparedness, and even off-grid living.
In this article, we will guide you to understand a new type of solar generator - LiFePO4 solar generator. We will explore what they are, how they work, and why they have become the preferred choice for those seeking sustainable energy solutions.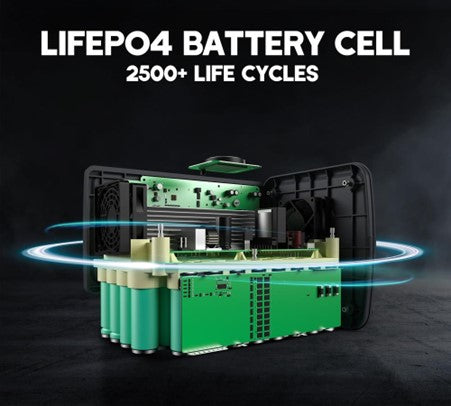 What is a LiFePO4 Solar Generator?
LiFePO4 solar generator is a portable power station that stores energy from photovoltaic (PV) solar panels into a Lithium Iron Phosphate (LiFePO4) battery. LiFePO4 batteries are known for their impressive energy density, extended cycle life, and exceptional safety compared to alternative lithium-ion battery types. LiFePO4 batteries also are made without using nickel or cobalt.
These solar generators are environmentally friendly and dependable power solutions for camping, power outages, or living off-grid activities. Available in different dimensions and power capacities, they can be recharged via PV panels, electrical outlets, EV stations, or car chargers.
Why Do You Choose the LiFePO4 Solar Generator?
There are some reasons why you must choose the LiFePO4 solar generator, such as:
This is the most important reason why you should choose LiFePO4 solar generator. Unlike lead-acid batteries, LiFePO4 batteries provide notable benefits such as enhanced discharge efficiency, an extended lifespan, and the capability to undergo deep cycling while maintaining optimal performance.
Over time, LiFePO4 batteries deliver increased energy output and extended usage cycles, making them an excellent long-term investment. Their durability and longevity make them a smart choice for individuals seeking sustainable and reliable energy solutions.
LiFePO4 solar generators are portable. It is perfectly suited for outdoor activities, camping, and emergency backup power sources. These generators are available in various sizes and weights, with the smaller models weighing as little as 5-10 pounds (2-5kg). Their lightweight design ensures effortless transportation and convenient use in various settings.
Due to their highly stable chemistry, LiFePO4 batteries are considered safe. They have high resistance to hazardous situations such as fires, short circuits, or collisions, reducing the risk of explosions. Additionally, these batteries allow you to use their full capacity without the concern of potential explosions.
LiFePO4 solar generators provide rapid charging speeds, with many models capable of achieving a full charge in approximately an hour. This convenient and efficient characteristic keeps your LiFePO4 solar generator ready for use in any situation.
Tips for Maintaining Your Solar Generator
Here are some tips for maintaining your solar generator:
Clean your solar generator regularly.
Never overload your solar unit.
Do not let water enter or touch your solar generator.
Ensure your solar generator is in a well-ventilated area to ensure proper airflow.
Top Picks for Solar Generators
Anker Solar Generator 757 (PowerHouse 1229Wh with 3×100W Solar Panels)
The Anker Solar Generator 757 portable power station is a product from a renowned brand known for its reliable portable charging solutions. This power station offers comprehensive features, including two 1500W AC outlets, a long-lasting 1229Wh LiFePO4 battery, remarkably fast 1000W mains charging, and the convenience of 100W and 60W USB power delivery options.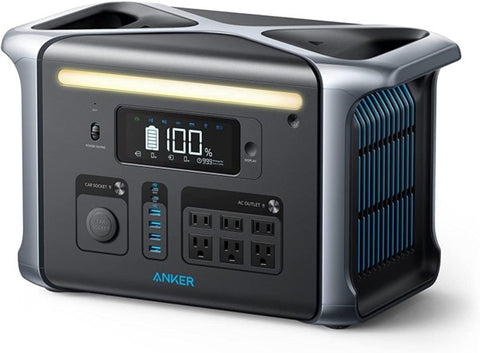 It comes with a car plug, 6 AC ports, 4 USB-A ports, 2 USB-C ports, and 4 USB-A ports. With a 100W fast-charging USB-C port, you can charge your laptop quickly with just one cable and get rid of heavy adapters.
Anker Solar Generator 767 (PowerHouse 2048Wh with 2×200W Solar Panels)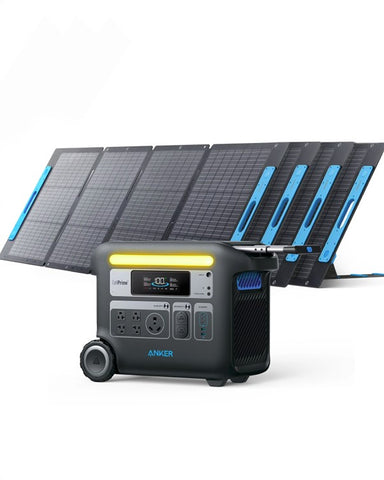 The Anker Solar Generator 767 is a portable power station with impressive features, including three 2300W AC outlets, remarkably fast 2200W mains charging, three 100W USB power delivery outputs, and a long-lasting 2048Wh LiFePO4 battery that can be expanded up to 4096Wh with an additional battery.
This power station is an ideal solution for various situations, including emergency power backup, camping, campervan use, DIY projects, travel, festivals, and everyday charging needs around the house or while on the go. When mains power is not available, the Anker PowerHouse 767 can charge up to 1000W solely from solar panels, making it an excellent choice for off-grid scenarios and sustainable energy usage.
Anker Solar Generator 555 (PowerHouse 1024Wh with 2×100W Solar Panels)
Equipped with a substantial 1024Wh capacity and an impressive 1000-wattage output, this Anker Solar Generator 555 is an ideal power solution for supplying energy to your various devices and appliances during your travels. It provides sufficient power to run all your essential devices and appliances such as an electric grill, coffee maker. This power station has premium LPF (LiFePO4) batteries with 3,000 cycles. In addition to its exceptional battery, it has HyperFlash technology that lets you recharge to 80% in just 1 hour.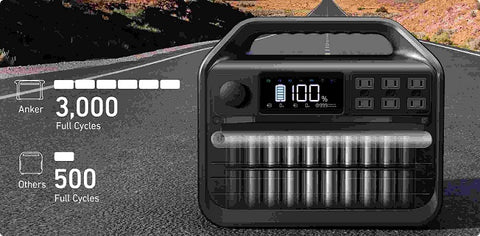 Conclusion
A LiFePO4 solar generator is a device that utilizes solar panels to gather solar energy and store it in batteries. By harnessing the sun's power, LiFePO4 solar generators produce electricity without emitting harmful pollutants or greenhouse gases, making them an environmentally friendly choice. Besides that, they are lightweight, quiet, and portable, making them an excellent power solution for various outdoor activities such as hiking, camping, and boating.
FAQs About LiFePO4 Solar Generator
Is LiFePO4 Suitable for Solar Energy?
LiFePO4 batteries are widely regarded as one of the top choices for solar energy compared to other popular solar batteries. They are often considered the best battery option because they have a long lifespan, high energy density, efficiency, versatility, and environmentally friendly design.
Is LIFEPO4 the Same as Lithium-Ion?
No, the term Lithium-ion typically refers to batteries that contain LiCoO2. LiFePO4 batteries generally offer 4 to 5 times more battery life cycles than traditional Lithium-ion batteries. Additionally, LiFePO4 batteries are known for their enhanced safety, making them a safer option for usage.